The
Advisory Panel on Healthcare Innovation
was created in 2014 to identify areas of growth in Canadian health innovation. Formed by the Canadian Minister of Health, the panel was tasked to:
Identify the five most promising areas of innovation in Canada and internationally that have the potential to sustainably reduce growth in health spending while leading to improvements in the quality and accessibility of care.
Recommend the five ways the federal government could support innovation in the areas identified above.
This year, the panel, led by chair Dr. David Naylor, published
Unleashing Innovation: Excellent Healthcare for Canada
. The panel reached out to Canadians and industry representatives, and conducted extensive research in order to best understand the current Canadian healthcare innovation landscape. In the report, the panel identified five critical areas in Canadian healthcare innovation:
patient engagement and empowerment
health systems integration with workforce modernization
technological transformation via digital health and precision medicine
better value from procurement, reimbursement and regulation
industry as an economic driver and innovation catalyst.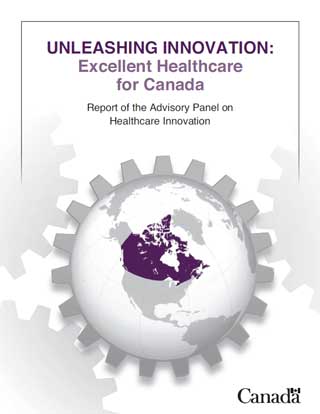 More importantly, the report recommended a new model for encouraging health innovation. Such a model encompasses a wide-angled view of healthcare innovation, rather than a series of small, quick-fixes that do not speak to the overall healthcare innovation landscape. The panel specified two enabling actions:
1. Creating a the Healthcare Innovation Agency of Canada (HIAC)
Should the agency be created, the HIAC will be an arms-length organization supported by the Healthcare Innovation Fund. The agency will support national collaboration across pan-Canadian organizations. In particular,  the Canadian Foundation for Healthcare Improvement, the Canadian Patient Safety Institute, and the Canada Health Infoway will be included in HIAC.
2. Establishing the Healthcare Innovation Fund
The Healthcare Innovation Fund's general goals are to "support high-impact initiatives proposed by governments and stakeholders; break down structural barriers to change; and accelerate the spread and scale-up of promising innovations". Rather than a formulaic allocation of funds, the Healthcare Innovation Fund will be allocated based on transparent specifications, measurable healthcare outcomes, and economic and social value. iamsick.ca is pleased to see the efforts being made to promote and encourage healthcare innovation in Canada. Improving healthcare outcomes and fostering innovation is at the core of iamsick.ca's work. In particular, we are encouraged to see the spirit of collaboration and partnership embodied throughout the report. We look forward to seeing new developments and measurable changes as the federal government moves forward with these recommendations. Sources:
Report of the Advisory Panel on Healthcare Innovation
, Government of Canada (2015)
Advisory Panel on Healthcare Innovation
, Health Canada
HealthCareCAN talks to Dr. David Naylor, Chair of the Advisory Panel on Healthcare Innovation
, HealthCareCAN (2015)